Joseph Wharton
Industrialist, Founder of the Wharton School, University of Pennsylvania
Thomas William Herringshaw, Encyclopedia of American Biography, p.996
WHARTON, JOSEPH, manufacturer, was born March 3, 1826, in Philadelphia. He was among the first to establish the manufacture of spelter, nickel, and cobalt in this country, and was the first to make magnetic needles of other substance than steel. He owns the deposits of nickel ore in Lancaster county, Pa., which he purchased in 1873, and established his works in Camden, N.J. The Wharton School of Finance and Economics was founded by him.
Born in 1826 in Philadelphia to an old Quaker family, he first studied at a local Friend's school but being sickly did not attend college, rather he was sent to a farm to regain his health and during the winter studied chemistry at the laboratory of Martin Boye in Philadelphia.
In his life Joseph built three major estates Ontalauna where he died in Germantown PA was the family home. He moved from the fashionable section of Philadelphia and the home left him by his father William to Ontalauna .
Joseph Wharton purchased Batsto at a "master's sale" (Foreclosure) in 1876 for $14,000. "Under his supervision major repairs were made, and the 80 foot tower was erected over the mansion. Wharton presided there, also more or less in the lord-of-manor style. He began acquiring much adjacent property and planned to utilize it as a water supply source for the city of Philadelphia. The plan was killed when the NJ legislature passed a law forbidding export of water outside the state.
"The Italianate-style mansion has 36 rooms on six levels, with an observation tower at the top. A small library, elegant dining room and numerous bedrooms are part of the tour. Each room has a bell to summon servants. A wide, wrap-around porch, a mansard roof and Buttonwood trees distinguish the exterior. "
When Joseph Wharton died in 1909, the estate offered the tract to NJ for $1,000,000. The offer was rejected by the voters in 1915. But on January 17,1954 the state of NJ and the Girard Trust of Philadelphia, trustees for the Joseph Wharton estate, entered into a sales agreement. The state finally purchased it on December 28, 1954 for $3,000,000.
Finally.Joseph built Marbella in RI on Conicanicut Neck across from Newport. This home is still in private family hands.
Joseph had very definate ideas about education and maintained a close relationship with the University of Penn., until he had a falling out with them over board member selections. While he was supposed to leave an additional endowment to the University at his death, he changed his will and cut them out. He keeping with family tradition he stayed involved with Swarthmore and today they hold his papers.
On June 15, 1854, Joseph married Anne Corbit Lovering, sister of his brother Charles's wife Mary. Anne was born December 19, 1830 and the couple were married at Oak Hill the Lovering estate. The two honeymooned in Niagra Falls and returned to live in Philadelphia. Together they had three daughters:
Joanna born December 16, 1858, Oak Hill m. Joshua Bertram Lippincott
Mary Lovering Wharton born September 27, 1862, Note: Mary never married. In early adulthood she had a nervous break down and recuperated at Batsto.
Anna born July 15, 1868, m. Harrison Smith Morris
In the later part of his life Joseph's health and wealth began failing. He was forced to close the Wharton Fisheries (a failed experiment) and turned to Andrew Carnegie for help. After a trip to Europe in 1907-8 he came failing rapidly and died January 11, 1908. He left an estate worth $14 million and was laid to rest in Laurel Hill, a favorite resting spot for many Whartons.
The Wharton-Lovering-Perot Lot
From Historic Laurel Hill Cemetery
Philadelphia, Pennsylvania
The Wharton-Lovering -Perot lot sits on high ground in the oldest central section of Laurel Hill Cemetery. This lot is typical of the design of family plots during Victorian times. The plots were frequently surrounded by either cast iron fences or stone enclosures. Most of the cast iron fences have been removed over the years, making the Wharton plot one of the last remaining examples of this type. These fences were restored recently by a wealthy family member.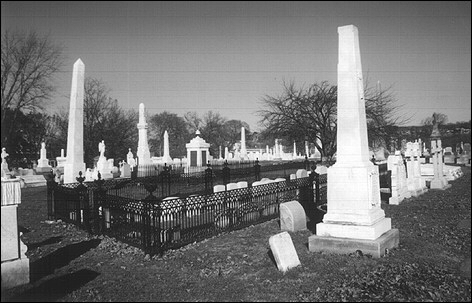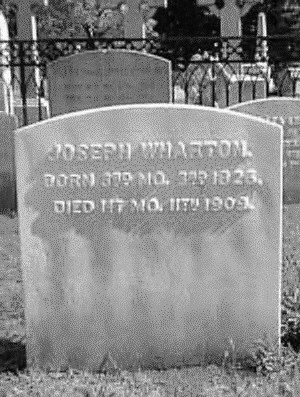 This picture appears courtesy of: John schimpf